CENNA-500W wireless gamma probe for radio guided surgery

Sentinel Lymph Node Biopsy Reinvented. 
The CENNA-500W wireless gamma probe system has been developed using the latest and most innovative technology to overcome the users' greatest challenges for successful SLNB. The intraoperative system is used for application are as such as breast cancer, head and neck cancer and melanoma.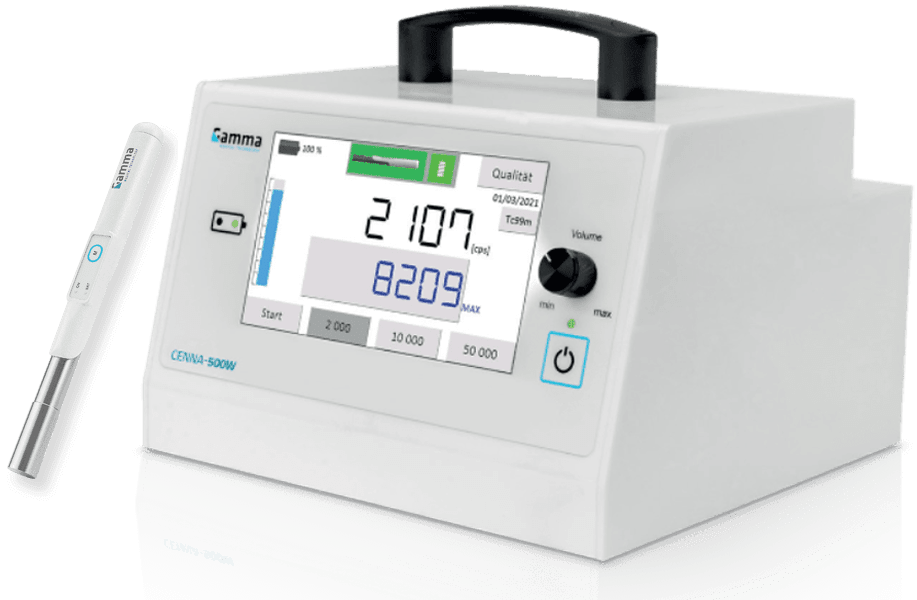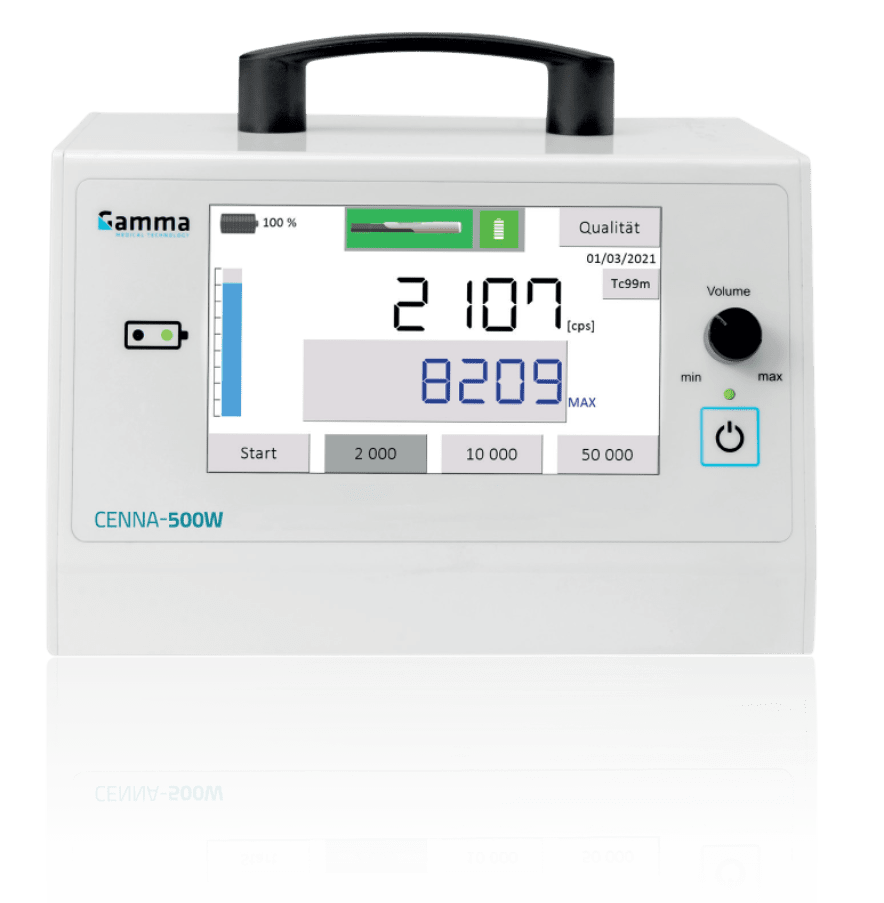 Designed for safety. Built for precision. 
The ergonomic 7″ touchscreen display, not only allows for optimal visibility, but also intuitive operation of all functions for best possible use:
Large display of current and max. count rate
Function to sum up the detected counts over 10 seconds
Choice between different isotopes
Battery display for control unit and handheld probe
Comfortable transport due to the compact design and
the light weight of only 3kg
Integrated probe holder to avoid loss of the hand probe
Ready to start immediately: Handheld probe and control unit connect automatically. No initialization or calibration is necessary.
The all-rounder. The P-500SW wireless probe. 
The increased sensitivity and enormous directional characteristics allow even complexly located lymph nodes to be localized reliably and accurately.
Functional design. 

High-quality and biocompatible materials for medical use and ergonomic design for comfortable handling.

Steady transmission of data over a distance of up to 10m and maximum protection against external interference signals and other influences.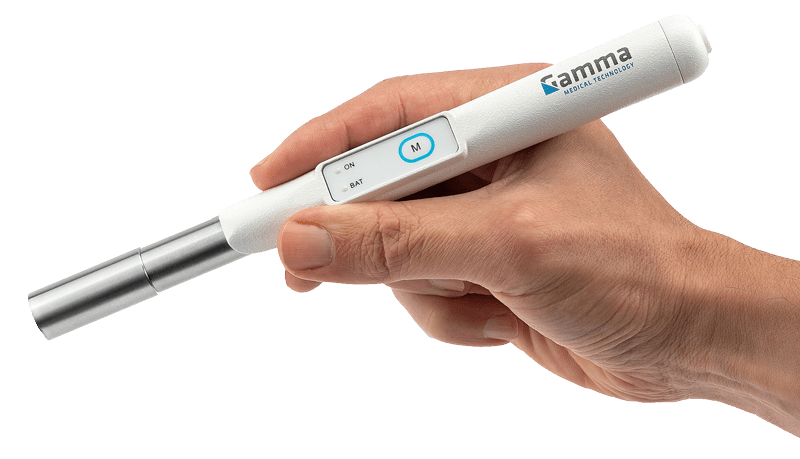 Durable. Reliable. User-friendly.

Rechargeable batteries that guarantee 10 hours of use. No need to constantly reorder batteries for complete elimination of downtime. 

Clear assignment of used hand probe to control unit – no cross-connections to other hand probes possible.
Your Comprehensive Solution for Precision and Safety.
Our wireless gamma probe is the centerpiece of our comprehensive solution. Thanks to its state-of-the-art technology, it enables precise and reliable localizations that are crucial for sentinel lymph node biopsies (SLN operations). This allows surgeons to carry out these complex procedures with utmost accuracy and confidence.
Each of our probes comes with a specially adapted sterile protective cover designed for intraoperative use. The protective cover consists of a double-layer construction that provides additional protection against physical damage and contamination without impairing the function of the probe. Thanks to its innovative design, the gamma probe can be quickly and easily packaged in the cover, saving valuable time, and minimizing the risk of errors.
To ensure the quality and efficiency of the gamma probe, we also offer a suitable Co-57 test source. This allows for daily quality control to ensure that the gamma probe is always in optimal condition and delivers the most accurate results.
With us, you receive a comprehensive solution that is perfectly tailored to your needs. From the wireless gamma probe to the sterile protective cover to the suitable test source – everything from a single source.
Gamma Probe System GMT-100
Intuitive Gamma Probe System with highest sensitivity and automatic quality control
Instrument GMT-100
Performance
High sensitivity and reaction time for an increased detection probability
Exact correlation between displayed count rate and acoustic signal, for a full focus on the examined area 
Powered by lithium accumulators (up to 7 h) or by power supply
Detailed display of the battery status in percent with charging information 
Automatic change between used nuclides 
No calibrations necessary, ready for immediate use
Features
Ergonomic 7" TFT touchscreen display with white LED background for high contrast
Light weight of 3,5 kg for comfortable transportation
Antibacterial handle for effective cleaning
Special housing design to achieve easy disinfection 
Probe holder and cable rewind
High quality manufacturing
User Interface
Clearly arranged and well-assigned buttons for intuitive operation 
Easy-to-understand displayed information 
Simple menu navigation using three main pages: Home, Quality Control and Service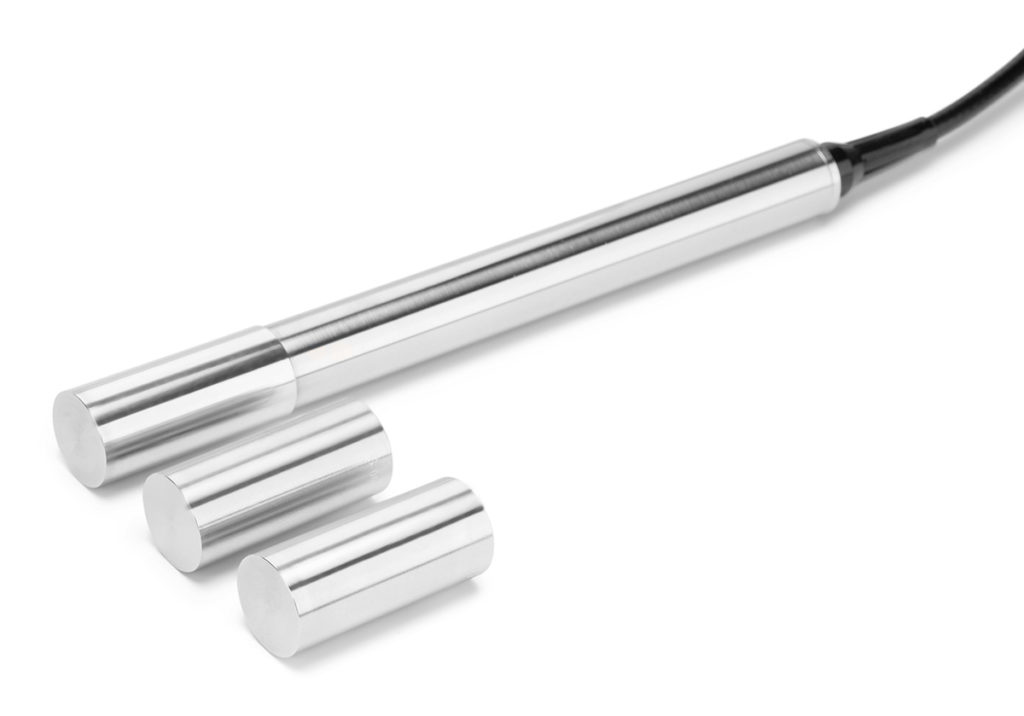 Probe P-100S
With the Gamma Probe P-100S, you benefit from the built-in photomultiplier, which increases the sensitivity and amplification of even the weakest marked lymph nodes. This leads to an improved probability of detection in comparison to common probes with photodiodes and semiconductors.
Perfect side shielding of 99.97 % for error-free detection of radiation sources
Excellent spatial resolution of marked lymph nodes of 12 mm
The complete probe is made of biocompatible surgical stainless steel.
Ergonomic design with an outer diameter of 15 mm for optimized handling
Removable collimators for simplified sterilization
Standard 40° collimator, which can be easily exchanged with other collimators (20°, 60°)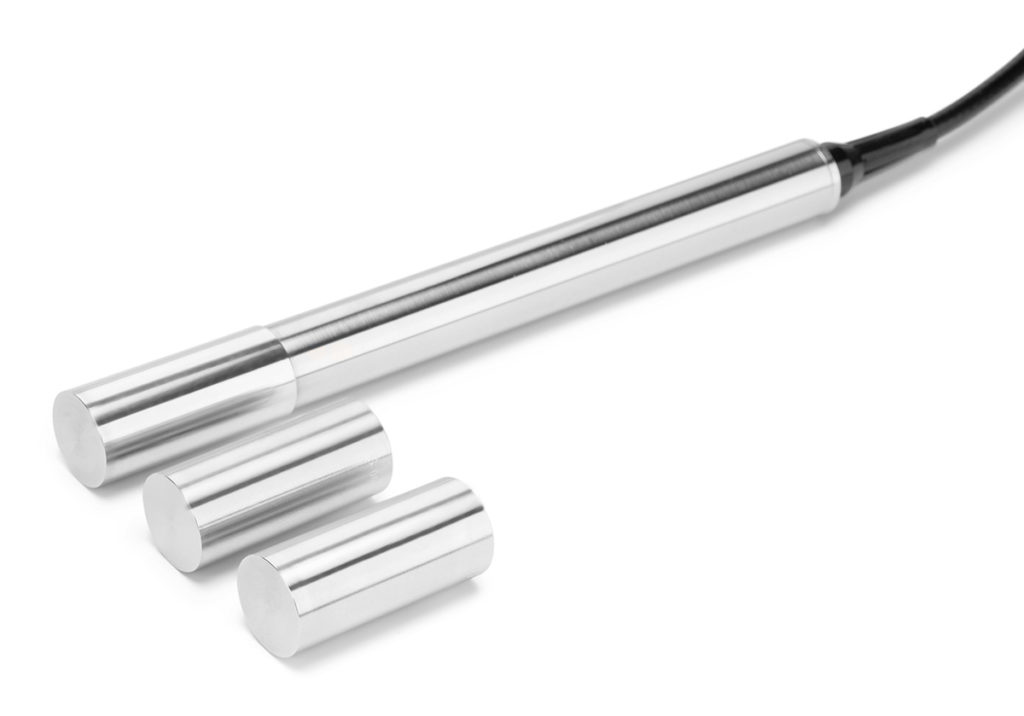 GMT-100 Accessoires
Co-57 test source
For quality control we recommend the Co-57 gamma source with a nominal activity of 185 kBq and a diameter of 25mm. A suitable test source holder is already included in the scope of delivery of the GMT-100 system*.

*Manufacturer: Eckert & Ziegler
Intraoperative probe cover
The sterile cover ensures maximum protection for the user, the patient and the probe. With dimensions of 13 x 244 cm, easy handling is guaranteed without compromising the functionality of the probe.